Outsourcing: An Untapped Government Fleet Strategy.
With mounting pressures to deliver quality service, government and other public organizations may experience hurdles when it comes to managing its vehicles effectively. Outsourcing the management of the fleet of vehicles can provide several benefits to the organization. In this whitepaper you'll learn more about these topics:
Challenges of self-managing a fleet
Benefits of outsourcing fleet management
Flexible and customizable fleet programs
Why outsourced, proactive fleet management makes sense
Do you have questions about how these government fleet strategies can work for your organization? Contact your local Enterprise Fleet Management team to learn more.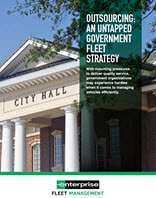 Download Our Government Fleet Whitepaper
Thank you for downloading. Please check your pop up blocker if it didn't immediately download.