In This Video…
Category: Vehicle Accident Repair
Summary: Learn how Enterprise makes the vehicle repair process hassle-free by handling the entire claims process for you with little driver involvement.
Learn more about the benefits of a vehicle accident repair program to enhance your fleet. 
For Roadside Assistance Call 1-800-325-8838, select Option 2.
When there's an accident, we're there to help you get your drivers back on the road quickly. Your drivers' safety and well-being, and the productivity of your fleet are our top priorities. We'll handle the entire claims process, arranging for repairs through reputable body shops, and even set up a rental car while your fleet vehicle is out of commission, should you need it. 
In Case of an Accident: 
1. Call the police. Address any injuries first before you assess any damage.
2. Fill out an accident report using the eFleets Mobile App or in the Driver Handbook. Be sure to obtain as much information from all involved drivers. 
3. Take photos if safe and possible.
4. Call Enterprise Fleet Management at 1-800-325-8838, option 2 to submit a claim. You may also submit the claim electronically through the eFleets Mobile App or via email to eclaims@efleets.com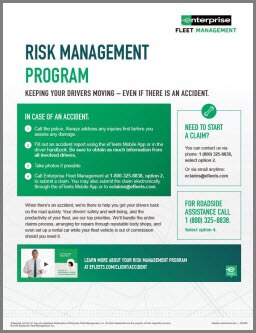 Download A Copy of This Risk Program Information.
THANK YOU FOR YOUR INTEREST
Want to learn more? Contact Us for a free Fleet consultation.