In This Video…
Category: Telematics Program
Summary: Enterprise Fleet Management offers solutions provided by Geotab Telematics, which deliver you with information you determine critical to manage safety and productivity.
Learn more about the benefits of a telematics program to enhance your fleet. 
How to use the Telematics Online Portal provided by Geotab. 
Visit my.geotab.com to login with your credentials and view, customize and share reporting for your fleet. 
If you have not set up your username and password to access your Geotab Account, please contact your Enterprise Account Fleet Coordinator. 
Geotab is a simple plug-and-play device that logs real-time vehicle data and uploads it to a secure online portal. The device plugs into each vehicle's diagnostic port. As soon as your drivers hit the road, the device will begin tracking. 
Telematics Online Portal 
Your Geotab online portal gives you 24/7 access to reporting and statistics about every vehicle in your fleet. You'll be able to see average speed, fuel usage and engine performance, so you can make decisions to help reduce fuel consumption, optimize routes and schedule routine maintenance. 
The telematics system also includes customizable alerts to help identify unsafe behaviors like harsh braking, cornering, accelerating, speeding and excessive idling. In case of emergency, Geotab will also alert key contacts - and even call for help if necessary.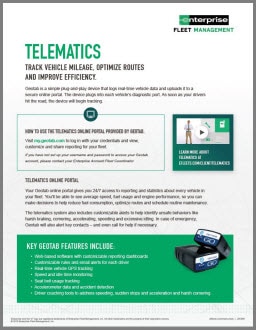 Download A Copy of This Telematics Program Information.
THANK YOU FOR YOUR INTEREST
Want to learn more? Contact Us for a free Fleet consultation.
Key Geotab Features Include: 
Web-based software with customizable reporting dashboards

Customizable rules and email alerts for each driver

Real-time vehicle GPS tracking

Speed and idle time monitoring

Seat belt usage tracking

Accelerometer data and accident detection

Driver coaching tools to address speeding, sudden stops and acceleration and harsh cornering