In This Video…
Category: Fuel Management
Summary: Fuel is one of the most important and costly aspects of keeping your fleet on the road. Learn how to effectively use the Enterprise Fuel Program to track and control all fuel costs.
Learn more about the benefits of a fuel management program to enhance your fleet.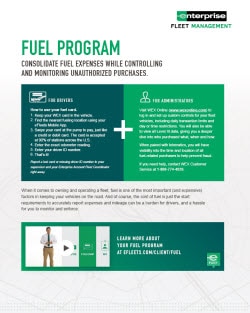 Download A Copy of This Fuel Management Program Information.
THANK YOU FOR YOUR INTEREST
Want to learn more? Contact Us for a free Fleet consultation.
For Drivers - How to Use Your Fuel Card
1. Keep your WEX card in the vehicle. 
2. Find the nearest fueling location using your eFleets Mobile App.
3. Swipe your card at the pump to pay, just like a credit or debit card. The card is accepted at 90% of US fueling stations. 
4. Enter the exact odometer reading.
5. Enter your unique Driver ID number
6. That's it! 
For Administrators - How to Setup Your Account
Visit WEX Online at www.wexonline.com to login and setup custom controls for your fleet vehicles, including daily transaction limits and day or time restrictions. You will also be able to view all Level III data giving you a deeper dive into who purchased what, when and how. 
When paired with Telematics, you can have full visibility into all transactions. 
If you need help, contact WEX Customer Service at (888) 774-4939

When it comes to owning and operating a fleet, fuel is one of the most important (and expensive) factors in keeping your vehicles on the road. And of course, the cost of fuel is just the start: requirements to accurately report expenses and mileage can be a burden for drivers, and a hassle for you to monitor and enforce. 
Report a lost card or missing driver ID number to your supervisor and your Enterprise Account Fleet Coordinator right away.