In This Video…
Category: Client Website
Summary: Enterprise Fleet Management offers clients a robust and user-friendly website that leverages powerful tools to quickly and effectively manage your fleet. Using cutting edge technology and analytics, we pinpoint the best opportunities to optimize your fleet through customized reports available to clients 24/7.
Visit
Login.Efleets.com
to access the client website.
Once logged in, you can click on the Training tab to learn more, or contact your Account Fleet Coordinator if you have any questions or need help.
Forgot your password? Reset your password by clicking on the "Forgot Password" link in the login box. 
Your Enterprise Fleet Management Website Includes:
Customize dashboards to ensure you get the data you need in as few clicks as possible.

Big picture data that easily drills down into information about specific vehicles and drivers. 

Tailored reporting and labeling options to match your existing accounting terms and structures. 
Learn more about Adding Vehicle Descriptors, Customizing Charts & Grids and Changing or Adding Drivers by visiting the Training tab in the client website. 
You have more important things to do than tracking vehicles and managing incidents. That's our job. But we do understand you need up-to-date information about your vehicles and their performance to make key decisions every day. That's why we're proud to offer you a customized website with everything you need for full visibility into your fleet. 
Bringing your most critical data forward. 
Ask your Account Fleet Coordinator to help you customize and create reporting dashboards to fit your company's needs. The client website is designed to help you spot areas for improvement, while tracking individual vehicle performance and total cost of ownership, all in real-time. 
Once logged in to the Client Website, go to the "Training" tab if you are looking for additional support resources.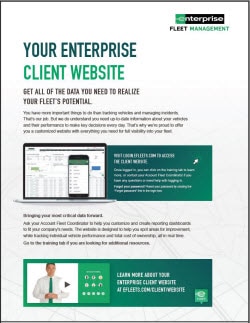 Download A Copy of This Client Website Information.
THANK YOU FOR YOUR INTEREST
Want to learn more? Contact Us for a free Fleet consultation.
Log In To Your Website To: 
Setup drivers with access to the mobile app

and others with necessary access to the client website, as needed. 

Create custom vehicle descriptors

to help your company allocate and track costs by project, region, vehicle class or for another purpose. 

Review vehicle performance

and maintenance information in real-time. 

Schedule and send alerts

to drivers for maintenance, registration and recalls.

Verify or update information

like vehicle descriptors, assigned drivers, mileage information and more. 

Sort data

by a variety of fields and parameters, including driver or vehicle to view current and historical information. 

Access and verify all risk management claims

(if subscribed) 

Develop custom reports

to display, sort and filter the information you need. 

Export data

in multiple formats to fit your business needs.