The Journey to a Better Fleet Starts with Fleet Management
Looking for ways to save time & money when it comes to your fleet? Managing your fleet day to day is hard enough. Anticipating the future? That seems impossible. When your fleet is moving as fast as it is these days, do you think there could be a better way?  Download our infographic to learn more about how a fleet management program could help your company.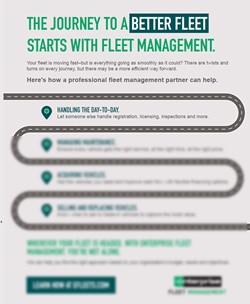 Download Our Infographic
Thank you for downloading. Please check your pop up blocker if it didn't immediately download.