HOW TO BUILD A SUSTAINABLE FLEET STRATEGY
IT'S MORE THAN A TREND: SUSTAINABILITY IS HERE TO STAY.
In fact, buyers have shown they value organizations that adopt sustainable policies and practices.
And more and more, these green initiatives impact company vehicles. After all, fleets are highly visible demonstrations of an organization's commitment to sustainability. The vehicles you choose – and how you maintain and operate them – can show your progress toward goals like cutting emissions, minimizing fossil fuel consumption or reducing your carbon footprint.
HERE ARE SOME KEY QUESTIONS TO ASK AS YOU MOVE FORWARD WITH THESE INCREASINGLY PUBLIC INITIATIVES.
Should you look into fuel-efficient vehicles with traditional internal combustion engines (ICE)?
Do Hybrid or Electric Vehicles have a place to meet my fleet's needs?
Can you better match fleet vehicles with specific tasks and drivers to be more efficient?
Should you reduce the size of your fleet?
And how do your employees – and customers – feel about alternative-fuel vehicles?
A professional fleet management company (FMC) can help you answer these questions and set you on a course to establish, implement and achieve your organization's fleet sustainability goals, without sacrificing driver productivity or experience.
4 REAL-WORLD REASONS FOR A SUSTAINABLE FLEET PROGRAM
While the broad environmental benefits of a fuel-efficient fleet may be self-evident, there are several other reasons to craft your sustainability strategy now.
1. REGULATORY CHANGES
California and New Jersey are already leading the way with programs that will ban the sale of Internal Combustion Engine (ICE) vehicles to consumers by 2035, and to businesses (with some exceptions) by 2040. Other states are reportedly considering similar measures that may force the decision on fleets sooner, rather than later.
2. MARKET EVOLUTION
Major vehicle manufacturers are bringing more and more electric and hybrid options to the market, including pickups, SUVs and even medium- and heavy-duty electric vehicles (EVs). Each generation brings fewer compromises and wider adoption. That said, it's important to analyze your fleet, as EVs might not be right for every fleet operation, today.
3. CORPORATE RESPONSIBILITY
"Reducing your carbon footprint," is more than a buzzword – it's a high-profile act of good corporate citizenship. While building more efficient offices or purchasing carbon offsets might capture one-time headlines, building a sustainable fleet can be a powerful, long-term step toward reducing environmental impact – particularly with high-profile, enterprise-size fleets.
4. BUSINESS EFFICIENCY
More efficient vehicles can cut acquisition costs and reduce the total cost of ownership (TCO) throughout the lifecycle of each vehicle. And replacing vehicles with newer models can make fuel and maintenance costs more predictable. Efficient vehicles also maintain their value, delivering greater returns at resale.
WAYS TO GO GREEN WITH YOUR FLEET
+ Rightsizing, ensuring your fleet has the right number of vehicles assigned to the right tasks.
+ Purchasing or leasing newer, more efficient vehicles — manufacturers are continuously making improvements to vehicle fuel economy.
+ Optimizing routes.
+ Reducing vehicle idling.
+ Developing eco-friendly driving programs.
Your environmentally friendly vehicles can also provide a boost for your brand, especially with on-vehicle messaging that reinforces your organization's commitment to sustainable practices.
THE ROADBLOCKS TO A GREENER FLEET.
As with any corporate initiative, your fleet sustainability program may run into some challenges. Working with an experienced FMC can help ensure a smooth transition.
When adopting a more sustainable fleet, it's important to reassure drivers they won't have to compromise if they transition to an electric, hybrid or alt-fuel vehicle. They'll still be able to get the job done.
Partnering with an FMC will help you build a robust driver roll out communication program, which will build confidence in your approach and help you get buy-in from key stakeholders. It's more than sales or marketing: this is an important step in helping everyone see the connection between the new vehicles and your organization's broader strategies, goals and financial performance.
A good way to begin implementing your sustainability strategy is to deliver a few new vehicles to a small group at first.
This approach can give you real-world evidence that EVs, hybrids or other efficient options are viable vehicles specific to your application. In turn, this pilot group can become advocates for your program as you continue to roll it out to the rest of your fleet.
If newer technology ends up not being a good fit, efficient ICE-equipped vehicles or other alternatives will still be available.
REMEMBER: YOUR FLEET IS MORE THAN A COLLECTION OF VEHICLES. It's your reputation, a message to your employees and your community. A professional fleet management company, like Enterprise Fleet Management, will be with you around every turn to help you build a sustainable fleet that fits your organization from day one and beyond.
THE JOURNEY TO SUSTAINABILITY STARTS WITH DATA
Placing a fleet at the center of a sustainability effort can be a daunting assignment. There are multiple decisions to be made – decisions with broad- ranging implications.
That's why it's important to start with data. Your FMC should be able to provide industry benchmarks to help establish baselines and plot the way forward, in addition to a comprehensive analysis of your fleet to determine which vehicles are candidates to be replaced by EV or hybrid models.
With this data in hand, you'll be able to make important decisions about the vehicles in your fleet. You'll gain insight into new types of vehicles that may meet your employees' needs, and guidance around when and how to introduce these vehicles out to your drivers.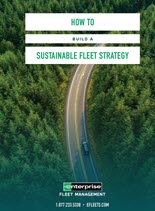 Download Our Whitepaper on Sustainable Fleet Strategy
THANK YOU FOR YOUR INTEREST
Want to learn more? Contact Us for a free Fleet consultation.
DETERMINE OBJECTIVES. The first step, of course, is to set goals. What are you hoping to accomplish with a more sustainable fleet? The financial benefits can be significant, but how will you determine the success of things like improved driver satisfaction and customer perception?
SELECT VEHICLES. Each year, manufacturers provide more green vehicle options across a variety of classes, in addition to enhancing capabilities and ranges of in-market models.
How many vehicles do you need?
One of the first questions you may need to answer sounds deceptively simple. But the world has changed. More employees may be working from home or conducting business virtually. It could make sense to explore a pooled vehicle approach.
Are your vehicles "right-typed"?
As you build your new fleet, you need to make sure employees are driving the right type of vehicle for their specific role.
Do you have vehicles ready for trade-in?
The market for trade-in vehicles fluctuates, so it's important to track the value of each vehicle to ensure you can get the best value when you trade in for a newer vehicle.
A professional FMC, like Enterprise Fleet Management will use a fleet analysis and utilization data to help your organization determine the appropriate resale point to maximize values and efficient replacement vehicles for your drivers.
What type of vehicles are right for your organization?
Your work may require the power or longevity of ICE – and an FMC can work with you to optimize their efficiency. But could electric vehicles also work? What about hybrids or other alt-fuel vehicles?
MANAGE DRIVERS. Vehicles are only one part of the sustainability equation. Drivers play a role, too, both in their enthusiasm for driving more advanced, efficient vehicles and in their willingness to adopt sustainable practices.
Do you plan to use telematics devices to help drivers optimize routes and improve efficiency?
This practically invisible technology can help identify ways for drivers to optimize routes, avoid unnecessary idling and practice safe driving techniques.
Will you allow personal use of company vehicles?
A telematics device can make it easier for drivers to track fuel or energy use, but you may need to make special considerations for personal use.
How will you roll out more efficient vehicles to your drivers?
Your FMC can help you coordinate implementation. Typically, it's best to start with a small group of "early adopters," who can then turn into advocates for the program as you bring more efficient vehicles to a wider group.
LET YOUR FMC TAKE IT FROM HERE
Building a sustainable fleet is a multi-step, multi- layered process. The best FMCs help organizations like yours make these transitions every day.
And when you work with an FMC to build a strategic sustainability plan for your fleet, you can focus on the day-to-day business of your fleet as you take critical steps to modernize and transform it.
WHY ENTERPRISE FLEET MANAGEMENT CAN HELP YOU BUILD A BETTER FLEET.
For nearly 70 years, Enterprise Fleet Management has been helping companies like yours maximize the efficiency of their fleets. When you trust your vehicles to Enterprise Fleet Management, your fleet can become one of your company's most valuable and productive assets.
At Enterprise, we own and operate one of the world's largest fleets, and we'll put this expertise and infrastructure to work for you every day.
With over 50 Enterprise Fleet Management offices across the country, you'll have a local team working with you to craft a fleet management strategy. Your Client Strategy Manager will meet with you regularly to make sure all of your goals are on track, and help you build a better – and more sustainable – fleet.