Factors to Consider When Researching a Fleet Management Partner
Many organizations begin their operation with the infrastructure and resources needed to manage their vehicles, internally. However, as the operation grows, managing more vehicles each year may often become its own full-time job. The right Fleet Management Company (FMC) can help to free up day-to-day administrative burdens of managing your own fleet, allowing your employees to focus on the core mission of serving customers.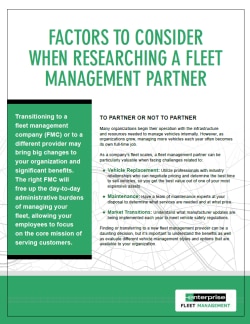 Download Our Whitepaper
Thank you for downloading. Please check your pop up blocker if it didn't immediately download.