2020 Total Cost of Ownership - Fleet Preview Guide
Simple Concept. Big Savings. It's important to consider the right vehicle for the job, at the right time. Enterprise Fleet Management builds a fleet preview guide comparing in-class make and models available as a reference for helping your business find the vehicle appropriate for your organization.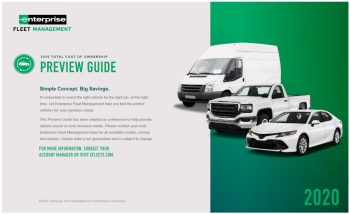 Download Our 2020 Fleet Preview Guide
Thank you for downloading. Please check your pop up blocker if it didn't immediately download.