In This Video…
Category: Health Care
Fleet Size: 90 Vehicle Fleet
URL: https://www.wellcarehealth.com/

Summary: Well Care Home Health recognizes the positive changes that have occurred within the organization since partnering with Enterprise Fleet Management. Some of those changes include: cost savings, increased brand awareness and successful recruitment and retention efforts with new company vehicles.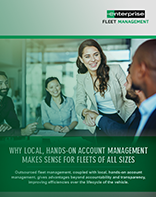 Download Our Whitepaper
Thank you for downloading. Please check your pop up blocker if it didn't immediately download.