In This Video…
Category: Health Care
Fleet Size: 56 Vehicle Fleet
Summary: The cost savings DCI Donor Services realizes with Enterprise Fleet Management continues to grow. A transition from reimbursing employees for miles driven in personal vehicles to an Enterprise Fleet Management solution allows DCIDS to save nearly $600,000 over the course of 52 months and continue to help more patients in need.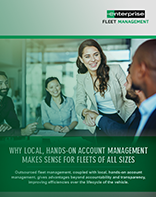 Download Our Whitepaper
Thank you for downloading. Please check your pop up blocker if it didn't immediately download.