In This Video…
Category: Home Health and Hospice
Fleet Size: 150 Vehicle Fleet
Summary: Camellia Home Health values Enterprise's knowledge and network to help manage its fleet of vehicles. According to Alan Blakeney, one of the most important aspects of the Enterprise Fleet Management relationship is the trust, honesty and proactive approach of the Enterprise team.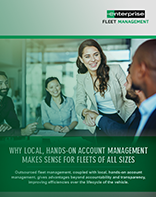 Download Our Whitepaper
Thank you for downloading. Please check your pop up blocker if it didn't immediately download.