In This Video…
Category: Electrical Services Company
Fleet Size: 200 Vehicle Fleet
URL: https://www.baker-electric.com/
Summary: Baker Electric's, Dan Vivier, Director of Operations, discusses the advantages of a strategic partnership with a fleet management provider. Vivier talks about how Enterprise's approach helped them to find cost savings and value in the way they operate their fleet.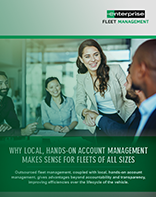 Download Our Whitepaper
Thank you for downloading. Please check your pop up blocker if it didn't immediately download.