State of the Fleet Industry: 3G Migration & Sunset
IN THIS VIDEO...
Category: Industry Trends
Fleet Topic: Fleet Maintenance in 2021 and Beyond
URL: https://www.automotive-fleet.com
Summary: The latest State of the Fleet Industry Spotlight video features Dain Giesie, Assistant Vice President of Business Development at Enterprise Fleet Management, who spoke with Automotive Fleet Editor Mike Antich about the upcoming 3G device sunset and what fleets should be prepared to do.
Topics discussed include: 
The risks of not upgrading 3G telematics devices
Dain's recommendation for upgrading 3G devices
Why you should want to upgrade to 5G devices now.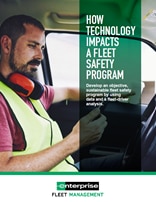 Download Our Whitepaper About Safety & Technology
THANK YOU FOR YOUR INTEREST
Want to learn more? Contact Us for a free Fleet consultation.