Enterprise uncovers the potential of fleet electrification
With the impending transition to electric vehicles (EVs) on the horizon and real-world factors informing decision-making, the team at Enterprise Fleet Management recognized the importance of basing their long-term business strategy on reliable data — not assumptions. Working together, Enterprise Fleet Management and Geotab conducted one of the largest fleet EV Suitability Assessments (EVSA). This massive study was designed to better understand how the shift to EVs will affect Enterprise Fleet Management's business today and in the future. By taking action on this data, Enterprise Fleet Management can continue to provide its customers with the industry-leading support they've come to expect.
In all, 91,252 Enterprise Fleet Management leased vehicles were included in the study. The results surprised both teams:
13% (approximately 12,000) of the analyzed vehicles could be economically replaced by EVs today.
Near-term electrification could achieve a total potential savings of $33 million and 194,000 tons of CO2 emissions over four years.
Up to 45% (approximately 42,000) of the analyzed vehicles could be electrified as EV pickups enter the market.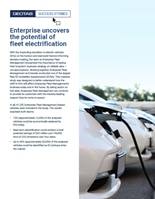 Download Our Case Study on EV Suitability
THANK YOU FOR YOUR INTEREST
Want to learn more? Contact Us for a free Fleet consultation.