Case Study: Enterprise Uncovers the Potential of Fleet Electrification.

Electric Vehicles (EVs) are beginning to play an important role in the future of transportation. While adoption is still in the early stages, it's critical to understand when EVs may be a good option for your fleet needs. 
Enterprise Fleet Management recently conducted a fleet  electrification suitability study in partnership with Geotab that identified the current electrification opportunity among 91,000+ of our fleet vehicles.
In this Case Study, you'll be able to get more details on key study findings: 
13% (approx. 12K) of analyzed vehicles could be economically replaced by EVs, today.
Near-term, electrification could achieve a total potential savings of $33M and 194K tons of CO2 emissions over 4-years

Up to 45% (approx. 42K) of the analyzed vehicles could be electrified as more EV pickups enter the market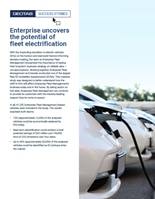 Download Our Case Study on EV Suitability
THANK YOU FOR YOUR INTEREST
Want to learn more? Contact Us for a free Fleet consultation.